How nice that you want to know more about us!

We are Richard and Tessa, together with our 17-year-old son Thijmen and 1-year-old daughter Nova we have been living in Zandvoort for 16 years.
Since those 16 years we really enjoy living here; the freedom the beach offers, the beautiful nature in the dunes and the nice village.
Although we live on the coast we are very close to the big cities and the lively city of Haarlem.
From 1 January 2021 we start the Boutique Lodge in Zandvoort.
Before that it has been Tessa's mother's hotel for 7 years under the name The Sands Hotel.
She has made it a fantastic successful company which looks great. It is now up to us to continue this and of course to bring our own character into it.
Following in Tessa's mother's footsteps in the company, we will dedicate 200% of our time to our guests.
Tessa:
I myself come from the hospitality industry and also did the Hotel Management study. After some side-tracking in the training world and sales, I've always found my full passion in hospitality. I sincerely enjoy giving guests that experience where they can really relax, let go of control and enjoy the moment here and now.
That I can now share my passion with my husband is great and together we will make it a party for our guests.
Richard:
After having always been in sales and having had my own car company for 11 years I was able to give myself the gift of a sabbatical 2 years ago. How wonderful to come to myself, recharge my batteries and from there my dream of years ago came true; Our own accommodation to pamper guests, give them the vacation feeling and make them happy with our enthusiasm, energy and service.
It is great that we are allowed to do this together as a couple!
Our goal is to make it a party for and with our guests.
We want to create a place where you feel at home, you can relax and everyone can be themselves. In addition, we attach great importance to respect for everyone else, nature and our society, this is something we also ask our guests in return.
Together we make the Boutique Lodge!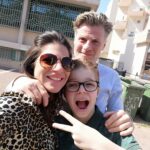 Want to get to know us better?
Facebook
Instagram
Envelope
Boutique Lodge
Burgemeester Engelbertsstraat 70-72
2042 KP Zandvoort